Jann Mardenbourgh, the young racer from Ely in Cardiff, who some of you will have raced with at Pembrey in 2011 as he raced in the Welsh Championship as part of his conversion into a real racer, having won that years Nissan PlayStation Academy, finished 5th in the LMP2 class and 9th overall at Le Mans! Jann and his team mates were the stars of the LMP2 class having led for most of the race before mechanical issues, including a loss of power and a cracked rear disc, lost them time in the pits, dropping them to 5th! Well done to Jann and his team mates Alex Brundle and Mark Shulzhitskiy! Whilst Jann was keeping his feet on the ground, and preparing for the GP3 race at the Austrian Grand Prix, speculation mounted on his role in the Nissan LMP1 challenge in 2015 as reported online by Autosport!

Jann is said to be targeting a place in Nissan's LMP1 team when the Japanese marque returns to the Le Mans 24 Hours in 2015. The 22-year-old Nissan protege performed well at Le Mans this year driving the G-Drive-backed OAK Racing Ligier that was on course for LMP2 victory before losing time with an engine problem. While no decision has been made on whether Mardenborough will be promoted to the LMP1 line-up, his strong showings in Nissan-powered machinery at Le Mans during the past two years would make him a logical candidate for its outright victory assault. "I'd love to be involved in that project but nothing is guaranteed," Mardenborough told AUTOSPORT "People high up in Nissan have said that none of the GT Academy drivers are guaranteed a place in this project. But it's something to work towards and it is a goal. I'll continue pushing to show the guys that are part of the project that I am worthy of the role."

'

LE MANS PROVES LIFE IS UNFAIR'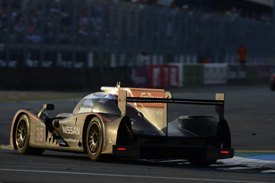 Mardenborough, whose focus is on his GP3 campaign with Arden this year, finished fifth in LMP2 this year alongside Alex Brundle and fellow Nissan GT Academy product Mark Shulzhitskiy.
He feels that his driving at Le Mans has taken a step forward this year despite describing missing out on victory as "very gutting"."There are positives to take from my second Le Mans and it was a massive thrill to be able to start the race for the second time. I am less disappointed than I was last year for coming fourth on the road - which became third in the end - because I'm a bit more experienced and look on the brighter side. I found a nice rhythm pushing the car but not damaging it over the kerbs too much, so it was easy to do that and just stay in the zone. I learned a lot about how to keep the tyres consistent over stints with heavy fuel on old tyres and brought it home. It's very cruel, Le Mans, and it tells you that life is unfair, so you try and take the best from it. It certainly makes me more determined, and certainly Nissan as well, to come back next year, hopefully for my third time."